Its your girl Culture Snobbette here: So when i'm not at home sleeping, eating cake or watching Sex and the City reruns, i'm out and about rippin' and runnin these streets in my search for Superior Culture. In the past couple of weeks, i made it to a few live shows, gallery openings and parties. And here is my Field Trip Report. Keep Your Grades up Snobbers!!
The first event i made it to was this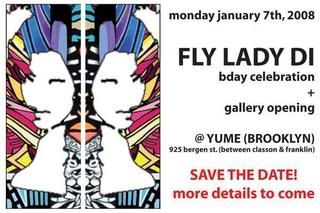 Held at
Yume Brooklyn
, a Crown Heights Loft, which doubles as a retail outlet for new and emerging designers, as well as a gallery space for visual arts. I love it! You know i'm all about shopping and art, not to mention its in BK....nuff said.
Here are some pics that i took of the space and the party.