The next event I made it to was this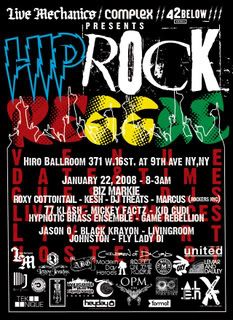 Held at the Hiro Ballroom (nice venue, but its on the West side...so sad so unfortunate). This production seemed to be sponsored, hosted and endorsed by everyone (see the long ass list of logos), but unfortunately no one was running the show. As my mother would say "too many cooks spoil the pot." This is an example of poor delegation: their was no master of ceremonies to direct the evening. Bands just showed up, jumped on stage and proceeded to abuse the audience. All of the Hip Hop artists sounded like UK Garage and Grime circa 2005. The acts that were booked were super random. Mixing Rock, hip hop and Reggae, good, i get it. Just make sure that you do it right.
On a positive note: Hypnotic Brass Ensemble came thru and salvaged the evening.
They only did 3 songs but it was totally worth the Metrocard Fare (who am I kidding...that was my Dad's Metrocard). If you've ever walked thru Union Square, then i'm sure you've heard them. This group of brothers learned their craft from their Father growing up in Chi Town and have truly made a name for themselves here on the NYC Streets.
Watch this backstage impromptu performance with Mos Def at Brooklyn Academy of Music
Check out their Myspace page for music and performance dates.
Myspace.com/hypnoticbusiness
And make sure to read their profile in the
New York Times
.
Now while I'm all about high culture, low culture, street culture, and whateva else people are calling themselves these days; I, Culture Snobbette, am a woman at the end of the day. So needless to say I have now become a fan of Game Rebellion!
Game Rebellion mixes Rap and Rock so effortlessly that they got thugs in their mosh pits.
Yeah, their music is good and their stage performance is amazing, but they've got something else going for them...
Front Man, Netic

I don't know I can't really put my finger on it...

Performing at the AfroPunk Fest in BK


Check out their
Myspace
for more porn..oops i mean music